Last month, Google announced a new function to "allow you to control how often the call option appears with your search ads". In basic terms, this feature gives you the option to increase or decrease the number of times your phone number is displayed in an ad. Many businesses use Google's click-to-call ad's to encourage direct customer calls from an advert. Through conversion tracking, you can measure how many of your call ads lead to a phone call from a customer.
You can find out more about Google's call-only campaign ads here.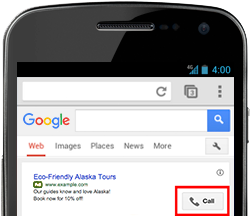 Coming exclusively to Google's new AdWords interface, call bid adjustments will allow you to manipulate call adverts in the following ways:
1.Devices– call bid adjustments gives you flexibility to have phone numbers shown differently on varying devices. For example, to boost calls directly from mobile devices, such as iPhones, the ads are targeted to iPhone devices.
2. Location– click-to-call adverts will now be able to be manipulated to show in different frequencies depending on what country you are in. This could be useful for a sales call centre that aim to attract more customers from a certain country. By using this feature they will be able to make the phone number advert more frequently visible in that country.
3. Ad Scheduling– adverts with phone numbers can be utilised to show more at a certain time of the day or only show on some days in the week. This could be great for companies that want to encourage more calls however, they may only be open limited hours or five days a week.
So what does the new call bid adjustment feature mean for your use of AdWords? You will be able to control the display of call information on your ads to drive high-value call conversions for your business. Control over your call ads has never been easier.
Google will be introducing this feature at the end of the year on the AdWords system.